Welcome

to the Rocktopia News Section
Anthriel Sign to Lion Music, plus other Lion updates.
Added by James Gaden | 18 June 2010

Lion Music are delighted to announce the signing of progressive metallers 
Anthriel
.
Hailing from Finland. Anthriel's music can be described as a progressive metal band with straight metal and neo-classical influences. Formed in 2004 by Timo Niemisto (guitars), Antti Hakulinen (keyboards) and Jari Kuokkanen (drums) and Klaus Wirzenius (bass), it wasn't until vocalist Simo Silvan joined in 2008 that the band really found their true direction.
With a style that is sure to appeal to fans of the likes of Symphony X, Adagio and Yngwie Malmsteen the bands debut album 
"The Pathway"
is an absolute monster offering, possessing an exceptionally high standard of songwriting from start to finish with first class performances from all musicians, the final icing comes in the guise of an ultra powerful production which puts many of the genres leaders to shame.
"Anthriel - The Pathway" is set for release on October 15th 2010. More information on the album to follow soon. In the meantime check out the band at 
http://www.myspace.com/anthrielmusic
where 2 samples can be heard from the debut album.
DAY SIX RADIO SPECIAL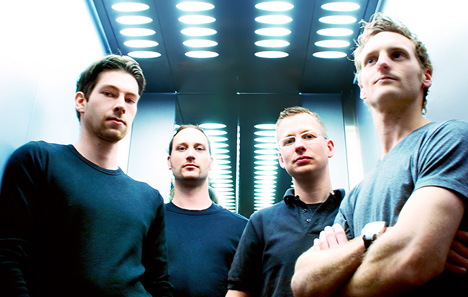 To celebrate the release of their debut album "The Grand Design" which is already picking up rave reviews, Dutch progressive metal band Day Six will be appearing in the studio on one of Europe's leading progressive metal shows to discuss and play songs from the new album.
You can catch the band on the following date/time.

Progressive X Grooves radio - Sunday 20.06.2010 from 8PM - 10PM (Amsterdam time):

Internet Radio: 
http://www.rosafm.nl/
Chatroom: 
http://www.groovyfreakz.com/progressivexgrooves.html
Full information inc. streaming audio of Day Six - The Grand Design can be found at 
http://www.lionmusic.com/cd/granddesign.htm
ASHENT NAME NEW VOCALIST
Silence doesn't mean inactivity: Titta Tani is the new singer of Italian progressive metallers Ashent.
The band report: After a short but intense period of transition, the new Ashent line-up is finally completed. Titta Tani (Claudio Simonetti - Daemonia, Goblin, ex DGM and ex Necrophagia) officially joins the band, replacing the bands dear friend Steve Braun.After 5 years spent together, we friendly decided to follow different musical adventures, hoping to continue to improve ourselves as men, musicians and song-writers, with honesty and genuine passion. We wish Steve all the best, in order to reach new goals with his new band. Now, we are fully focused on the next gigs and we're continuing the composition of our 3rd album that, with reasonable certainty, will be recorded during the next fall-winter period.
Steve's statement: 
"Today is a very bittersweet day for me. My Ashent family and I have regretfully decided to part ways. Due to the economic problems in the world it was getting increasing harder to get over to Italy. After quite a few discussions we decided that the only way for Ashent to move forward is for them to look for a new singer. My wife Tara and I love our Ashent family and are sad that this period has to come to an end but we love Ashent too much to let it suffer because I couldn't be a part as much as was needed. With this being said I couldn't be happier that Titta has joined the Ashent family. He is an awesome singer as well as a great guy. We met last May when we did a few shows together and instantly I considered him a true friend. Thank you all for the memories and most of all your love and friendship. God Bless!!!!"
Titta's personal statement: 
"Ashent welcome me as a family receives a relative who has been far away for a long time: with friendship and affection. And it's FANTASTIC. To replace such an impressive singer as Steve is a challange that cannot be undervalued, but I will give the best of myself in order to find the way into the fans' hearts of this amazing band!"
So guys, see you at the next gigs, and stay tuned checking the official pages.
.
http://www.ashent.net
http://www.myspace.com/ashentband
MISTHERIA STUDIO REPORT




All recordings and mixing are now complete for the forthcoming solo album from one of metal leading keyboard maestros - Mistheria. The keyboard wizard has checked in with the following guest updates.

Mark Boals
(Royal Hunt, Ring of Fire, Y. Malmsteen) has completed his recordings on the song 
"Eye of the Storm - Metal Opera 82"
. Of course, the song sounds nothing short of awesome! With a mix between elegant melody and metal power, Mark's vocals made the song totally captivating! After long years trying to make real our collaboration, I'm really proud to feature Mark, one of the greatest metal singers, on my new album!
Mark comments, 
"This song brought back fond memories of the roots of Neo-Classic Metal. I had a blast recording it, and working with Mistheria!"


Rob Rock has posted the following statement on his involvement in the album.
"Recording for Mistheria was a pleasure for me. Lies and Deception is a great song we wrote together and the song is just full of monster musicians exploding all over the place. A very interesting song to be a part of. The song is also very energizing and my vocal performance is high octane, somewhat like my Wicked Maiden (Impellitteri) and Slayer of Souls (Rob Rock) vibe in a way. A very "live" vocal take, with lots of "on the spot" ad-libbing, which added a very emotional and natural performance attitude to the song. I really like it!"
- RR
Italian Bass player 
Alberto Rigoni
(Twinspirits / solo) completes the "Dragon Fire" album line-up. Thanks to a great mixture of perfect performance and powerful rich sound, Alberto did an excellent job recording whole album with his fantastic 6-strings Elrick Bass.
The album's personel in full is: Vocals - John West, Mark Boals, Rob Rock, Titta Tani, Lance King.
Guitars - George Bellas, Roger Staffelbach, Emir Hot, Neil Zaza
Bass - Dino Fiorenza, Alberto Rigoni
Drums - John Macaluso
Lion Music can now confirm the track listing is as follows:
01. Dragon Fire.
02. Lies and Deception.
03. Killing the pain.
04. Two of us.
05. Metal Opera (part 1): A.D. 1982.
06. Metal Opera (part 2): Eye of the storm.
07. Now it's never.
08. Fire and Flames.
09. The Prelude of my life.
10. Chopin Fantasy.
11. The power of one.
12. The Beast.
13. A beautiful dream.
Mistheria - Dragon's Fire will see release later in 2010.
<![if gt IE 6]>
<![endif]>
Comments
(0)
Subscribe to this comment's feed
Write comment
<< Back